Top Star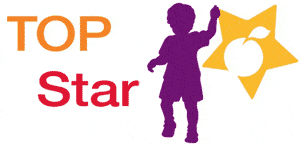 The focus of the TOP STAR Program is to move childhood obesity prevention forward by working directly with our community. TOP STAR is sponsored by the Utah Department of Health.
Program Focus: TOP STAR focuses on promoting physical activity and nutrition, reducing screen-time, and supporting breastfeeding-friendly environments.
Program Goals: To help child care providers improve their nutrition and physical activity using the following tools:
child care self-assessment
goal- setting
workshop training
technical assistance from health department staff, and other local health professionals
Workshops If you would like to use these training's to receive 10 hours of career ladder credit in level 1 Health & Safety or in levels 5-8, please contact Megan at (435) 277-2375 or email megan.raschke@tooelehealth.org to fill out the appropriate paperwork.
Please view to the workshops by clicking on the YouTube link. After completing all 6 workshops, you will need to complete the Online homework Top Star.
Please listen to the workshops by clicking on the YouTube link.
Supersizing Our Children- Childhood Obesity YouTube Childhood Obesity Workshop
Eat Right, Grow Strong -Nutrition for Young Children YouTube Nutrition for Young Children Workshop
Moving Children to Good Health- Physical Activity for Young Children YouTube Physical Activity Workshop
Stepping Toward a Healthy Lifestyle-Personal Health and Wellness YouTube Personal Health Workshop
Growing Healthy Kids Together-Working with Families to Promote Healthy Weight Behaviors YouTube Working With Families Workshop
How to Support a Breastfeeding Mother- A Guide for Childcare Providers YouTube Breastfeeding Workshop
Endorsed Facilities
Tooele:
Precious Peope Daycare and Preschool: Donna (801)514-0046
Stansbury:
It's a Good Day Preschool: Karolynn (801) 510-7645
Grantsville:
Kidsville Early Learning Center: Jenny  (435)884-1234
Ready, Set, Grow Childcare & Preschool: Debbie (435)840-8006
Erda:
Sara's Daycare: Sara (801)792-9837
TOP STAR program contact: For more information about TOP STAR in Tooele County please contact Amy, Public Health Educator at (435)277-2302 or by email amy.bate@tooelehealth.org
Resources: Here's your library of free, simple-to-use, proven resources, inspiring ideas, and practical tips for healthy eating and activity — all in one place. More resources are available at LetsMove.Gov Other helpful resources: