Utah health guidance levels – As of today, July 8, 2021 Tooele County has moved to the "HIGH" level of transmission. Read the press release here – Tooele County moves from Moderate to High July 2021 Press Release
COVID-19 Vaccine Available, no appointment needed  
Case Counts in Tooele County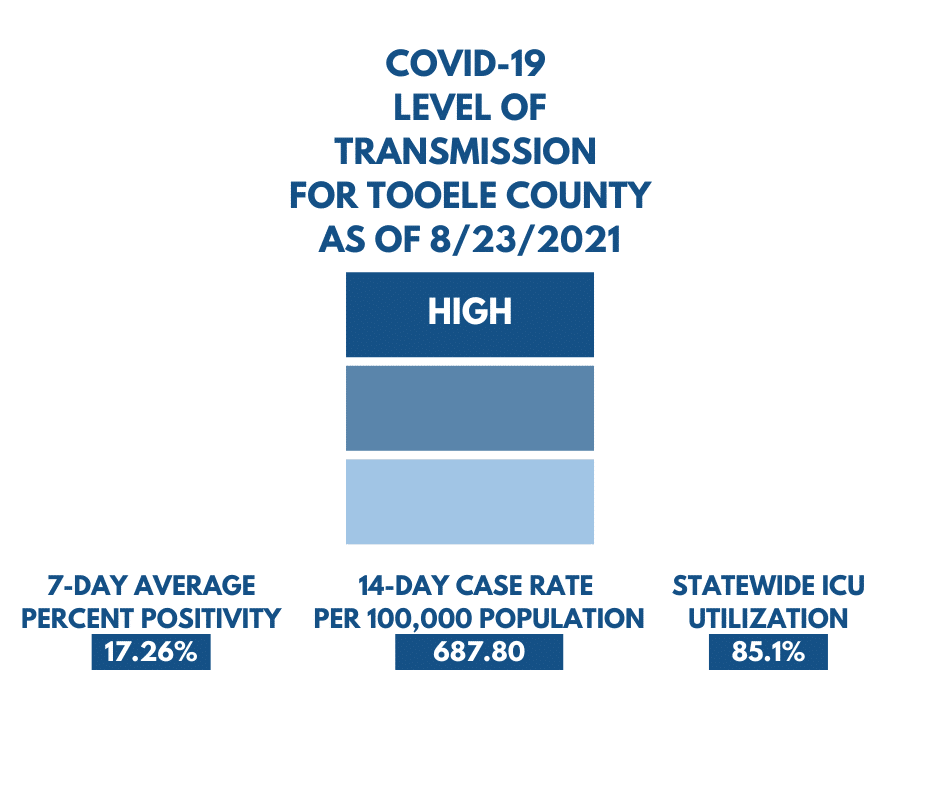 For complete information on Utah health guidance levels visit: https://coronavirus.utah.gov/utah-health-guidance-levels/
COVID-19 Transmission Index – The COVID-19 Transmission Index represents the collaborative work of state and local public health, the Governor's Office, the hospital industry, business leaders, and important guidance from legislative leadership on the elements of the approach to protect communities. The transmission index clarifies the public health metrics used to determine which counties are placed in which transmission level. Counties will be placed in one of three transmission levels: High, Moderate, or Low. These levels correspond directly to case rates, positivity rates, and ICU utilization.Data will be analyzed weekly, and counties will be placed into a transmission level depending solely on what their data show. Changes from a lower level to a higher level may occur weekly. Changes from a higher level to a lower level may occur every 14 days at minimum, when thresholds are met. The data helps us understand the real risk of transmission in our communities. Important health behaviors, based on epidemiology and medical science, are outlined at each level to protect yourself, your family, and your community from COVID-19.
---
---
---
Social gatherings
Such as family dinner, get togethers with friends, book club
Recommendation: Practice physical distancing and wearing a mask unless you are outdoors, by yourself or with members of your same household.
If you are fully vaccinated, follow guidance here.
Masks
Masks are recommended for crowded, indoor spaces where physical distancing is not possible.
Businesses may post signage listing COVID-19 symptoms and face mask or physical distancing requirements.
Physical distancing 
Between household groups where feasible, even at social gatherings
---
Wash hands often
---
Stay home when sick
Follow public health quarantine/isolation guidance
Protect yourself and others
---
Resources for all businesses:
---
---
Organized Events
Organizers of in-person events may choose to adopt the following recommendations to ensure the health and safety of attendees.
Masks are recommended for crowded, indoor spaces where physical distancing is not possible.
Consider using an Event Management Template for contact tracing purposes if COVID-19 cases are identified at the event.
---
K-12 School Recommendations
Our goal is to keep children healthy while attending school in-person. Learn more
Higher Education