Utah Family Meals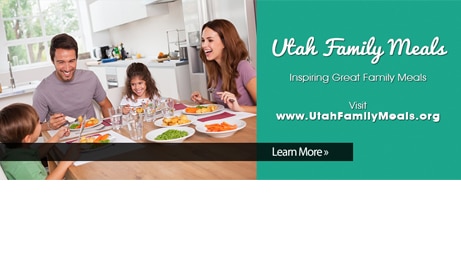 Utah Family Meals is the combined effort of all twelve local health departments in the state of Utah. Governor Herbert has declared September "Family Meal Month," in an effort to promote healthy family meals in Utah.
Click here for the news story!
Utah Department of Health
Welcome to the New EPICC Program!
The Healthy Living through Environment, Policy, and Improved Clinical Care Program (EPICC) is a new program resulting from the consolidation of three programs (Diabetes Prevention and Control Program, Heart Disease and Stroke Prevention Program, and the Physical Activity, Nutrition and Obesity Program). The consolidation of the three programs into one was designed to assist in the coordination of activities to ensure a productive, collaborative and efficient program focused on health outcomes. The program aims to reduce the incidence of diabetes, heart disease, and stroke by targeting risk factors including reducing obesity, increasing physical activity and nutritious food consumption, and improving diabetes and hypertension control.
To find out more check out the Choose Health and Family Meals initiatives
ULACHES
Mission Statement:
To assure quality health education programs in Utah through training, advocating public health policy, monitoring the allocation of resources, and promoting positive relationships between local health departments, the Utah Department of Health, and other agencies.
Purpose:
The purpose of ULACHES is to:
encourage and promote Community Health Education programs and activities that will motivate the public we serve to lead healthier lifestyles;
coordinate local health department resources with federal, state and other local agencies;
provide leadership and direction for improving the delivery of community health education services;
keep our members abreast of the latest research, development and pertinent information relative to community health education, by providing training and in-services at regularly scheduled meetings;
advocate responsible public health legislation at the federal, state and local level.
Members:
Members of ULACHES shall be the Health Education Director, lead Health Education Specialist, or staff employed by a County, City/County, or District Health Department and assigned by a Local Health Director to health education responsibilities.
For more information visit http://utahfamilymeals.org/