Septic Systems: permitting, re-certifications and how to care for your system.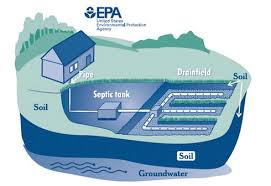 Septic systems- also known as individual onsite waste water disposal systems are permitted and inspected by TCHD in accordance with Regulation #12 Wastewater Disposal. Below is information for permits for new systems, re- certification of an existing system and how to care for your septic system. Septic systems are used by homes that are not able to connect to municipal wastewater treatment (sewer) systems.
New Septic Systems:
A permit for a new system will be issued once the following items are received and approved:
copy of the soil percolation test results
a plot map of the property showing property lines, where home and septic tank will be located and where well will be located  if applicable (must have 100 foot radius protection)
copy of the septic system design completed by a certified septic system designer
completed application
pay applicable fee
Property Map Requirements, Perc Testers, Septic System Designers, Well Drillers
Re-certifications:
Septic system re-certifications are often required by mortgage lenders during real estate transactions. The following items are required before an inspection will be scheduled:
provide evidence from a septic pumping company that your tank has been pumped with in the last 5 years
pay applicable  fee
Existing systems:
Read A Homeowner's guide to Septic Systems published by the Environmental Protection Agency for information on how to care for your system.
How To Care For Your Septic System
How Your Septic System Can Affect Nearby Water Sources
The Tooele County Health Department held an informational meeting on the recent septic system density study conducted in the Tooele Valley (Erda) area.  The meeting was held on Tuesday, May 10, at 7:00 PM  at the Tooele County Health Department (TCHD).  The public was invited to come and learn about the details in the Septic Tank Density Study performed by Hansen, Allen, and Luce Engineering Firm and ask questions or provide comment.  Click on the attachment below to view the study presentation.  For further information, contact the TCHD Environmental Office at 435-277-2440 or email our office at eh@tooelehealth.org
Click here to view the study Tooele County – Septic Density Study – FINAL (00000002)
Call (435) 277-2440 or email us at eh@tooelehealth.org if you have questions or to see if we have record of where your septic system is located.