International Smelter & Refining Superfund Site
In the early 1900′s, when International Smelting and Refining (IS&R) began looking for a place to build a smelter, the mouth of Pine Canyon in the Tooele Valley was considered ideal. It was believed that predominant westerly winds would carry stack emissions up the canyon and away from Tooele City. It was also thought to be an ideal site because it was near large ore (copper) supplies. In addition, it was near the main-line railroad. To learn more about the International Smelting and Refining Site Operations, please follow this link.
International Smelting Graphic
In 1996, studies conducted by the Utah Department of Environmental Quality found some of the properties located in the Pine Canyon area had been impacted by smelter related contaminants and health concerns, especially arsenic and lead.
The International Smelting and Refining Company site was placed on the Environmental Protection Agencies (EPA) National Priority List in July of 2000. Atlantic Richfield Company, the responsible party at the site, conducted studies to characterize waste on and around the site. Atlantic Richfield and the regulatory agencies evaluated a variety of clean up options. The Tooele County Health Department (TCHD) formed a community involvement team which met regularly during the reclamation.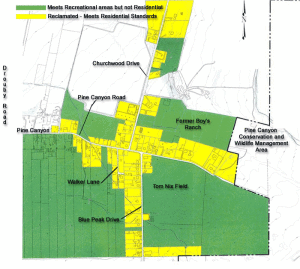 The area surrounding and including the IS&R site was designated the "Carr Fork Reclamation and Wildlife Management Area" in 1994.
Since concentrations of lead and arsenic in undeveloped (farm and open space) were below recreational cleanup levels at the time of the removal action plan in Pine Canyon, undeveloped areas did not require remediation.
When land use for these areas changes to residential, Tooele County may ask property developers to undertake additional sampling.
If sample results indicate it is necessary to protect future residents who live on the property, developers may be required to undertake additional cleanup work under the direction of the Tooele County Health Department. Developers would be required to conduct their own sampling. To view the Pine Canyon Developer Guidelines, IS&R_Developer_Guidelines_Brochure_2010.
The EPA announced proposed deletion of the IS&R site from the National Priorities List later this year.
Tooele Valley Railroad Spur – International Smelting and Refinery Project
The Tooele Valley Railroad was constructed in 1909 to connect the Union Pacific and Western Pacific lines at Warner, to the International Smelter and Refinery.The Tooele Valley Railroad Spur runs from the IS&R Site parallel to the Oquirrh Mountains then enters Tooele from the east just north of Vine Street.
The railroad was abandoned in 1981 leaving the spur behind. Over the next few months, the tracks were systematically removed. Vine Street was repaved.
For further information, please refer to pages 10 and 16 of the IS&R Booklet.
Institutional Controls and Land Use Controls Institutional controls (IC) are instruments to help minimize the potential for human exposure to contamination.  The land use controls help to protect the integrity of the remedy. TCHD is responsible for implementing the...
read more