Temporary Event Food Booths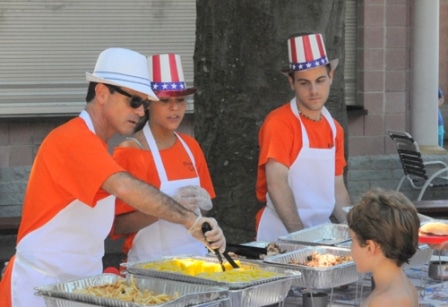 Fill out and return the Temporary Event Food Booth Application along with your fee. The fee for Tier 1 is $20.00 per day, per booth if you submit your application at least 72 hours or more PRIOR to the event; $35.00 per day, per booth if submitted LESS than 72 hours before the event. The fee for Tier 2 is $40 per day, per booth if you submit your application at least 72 hours or more PRIOR to the event; $55 per day, per booth if submitted LESS than 72 hours before the event. Your booth is considered a Tier 1 if you serve 3 or less food items that require time and temperature control for safety;  4 or more food items that require time and temperature control for safety is considered Tier 2.
Applications can be found here: Applications & Fees for Environmental Health Services
Return your application to us by:
email to eh@tooelehealth.org and then call to pay by phone (435)  277-2440
brought in or mailed in with a check, business hours are Monday-Thursday 8 am to 6 pm, Fridays 8 am to noon. Closed on holidays. Environmental Health Office, Suite 140
faxed in to (435)277-2444 and then call (435)277-2440 to pay by phone with a debit or credit card
Please note:
 A  permit is required whenever you are handling food and/or beverage to serve to the public regardless if there is a charge for the product.
A Food Handler Permit and a Temporary Event Food Booth Permit are not the same thing, you are required to have BOTH permits. At all hours of your booths operation you must have at least one person that has a valid Food Handler Permit to show during inspection.
A  Temporary Event Food Booth Permit does not  guarantee you access into various community events. It is your responsibility to arrange access to the event with the specific event coordinator before purchasing a Temporary Event Food Booth Permit. Refunds will not be given if access to the event is not granted.
Be sure to read the Fire Prevention Checklist at the bottom on this page.
Temporary Event Guidelines – The Do's and Don'ts of Temporary Event Food Booths
Do
Do have at least one person with a valid Food Handler Permit in your booth during all hours of operation.

Do protect food and drinks from splash, dust or other sources of contamination (i.e. have a booth with a top that covers the entire food service area and a flooring surface of plywood, concrete, asphalt or other acceptable durable material).

Do have a functioning hand wash station that includes soap, disposable towels, flowing water from a container with a handled spigot, a catch basin or bucket to catch wastewater and a waste receptacle. Wastewater must be disposed of properly.

Do have adequate equipment for cooking and cooling as well as hot and cold holding equipment as needed by your menu. Ensure that you have an adequate power supply to reach and maintain proper temperatures.

Do have an accurate probe-type thermometer on site to check food temperatures. Probes must be cleaned and sanitized after each use.

Do have a three compartment setup for cleaning, rinsing and sanitizing utensils and equipment.

Do have a handled scoop to dispense ice or food products. Scoop handles must not be in contact with the ice or food.

Do have necessary equipment to keep food covered and at proper temperatures when transporting.

Do have a supply of disposable gloves, an appropriate sanitizer (bleach/water mixture at 50 PPM minimum) and at least one waste receptacle.
Cold foods must be held at 41°F or below; hot foods must be held at 135°F or above.
Don't
Don't operate a temporary event food booth without first applying for and receiving a valid permit from Tooele County Health Department.

Don't prepare or cook food at a private home to be used in your booth. All food must be prepared on-site at the event unless a commissary or restaurant is used as indicated on your application. All food must come from an approved source i.e. market, licensed supplier or grocery store.

Don't have any bare hand contact with ready-to-eat foods. Use gloves, tongs, spoons, spatulas, etc.

Don't serve ice in beverages that has been previously used to keep food or beverage containers cold.

Don't dispense ice with your hands. Ice can become contaminated and cause food borne illness.

Don't allow anyone who is sick inside your booth. Ill or unclean personnel are a frequent cause of food borne disease.

Don't use disposable gloves as a substitution for hand washing. Gloves can provide an additional barrier to contamination but frequent and thorough hand washing remains the first line of defense in preventing food borne disease.
Click here for a printable version of Food Handler Basics Handout 2013
Hand Washing:
All workers must wash their hands:
Before any food preparation begins
After using the restroom
After smoking, using tobacco, eating, handling garbage, animals or children
After touching bare human body parts other than clean hands
After coughing, sneezing, using handkerchief or tissues
After handling soiled equipment or utensils
When switching between working with raw food and ready-to-eat food
During food preparation, as necessary, to remove soil and contamination
After engaging in other activities that contaminate the hands
Hand Wash Station:
One hand washing station is required in the food preparation area of each event booth. A permanently plumbed sink is not needed for temporary events, but at a minimum there must be:
Flowing water from a container with a handled spigot that allows continuous flow until manually turned off (a push button is not allowed)
A catch bucket or basin for waste water.
Soap
Paper (disposable towels)
There should be enough water available for the day's needs without running out – 5 gallons minimum. A booth will be subject to immediate closure if a hand washing station is not set up and operational PRIOR to beginning food handling and preparation.
Fire Prevention Checklist:
This checklist is intended to highlight certain Fire and Safety Regulations. By no means are these the only Fire and Safety regulations exhibitors and/or concessionaires must follow. It is the responsibility of the exhibitor/concessionaire to know what regulations apply to their operations.
Portable Fire Extinguisher Requirements:
1.  All mobile vendors are required to have a minimum of a 2A10BC extinguisher.
2. All mobile vendors using portable gas fueled power generators are required to have at least one minimum rated 3A40BC extinguisher.
3. All mobile Food Vendors using propane will have a minimum of one rated 3A40BC extinguisher.
4. All mobile Food vendors using deep fat fryers will have a minimum of one 6 Liter class K extinguisher. (In addition to 3A40BC)
Compressed Gases:
1. LP/Propane cylinders shall be properly secured in the upright position.
2. Cylinders shall not be stored in the passenger area of vehicle.
3. Shall be a minimum of 10' from any trash or combustible material
Extension Cords:
1. Only heavy-duty three prong extension cords should be used.
2. Power strips are allowable, but at no time can be "daisy chained" (plugging one power strip into another) together.
This checklist does not remove the vendor's responsibility to follow the guidelines set forth by the Tooele County Health Department or Tooele County Ordinances and the International Fire Code.
John Stout
Assistant Chief/Fire Marshal
North Tooele Fire District