Mass Gatherings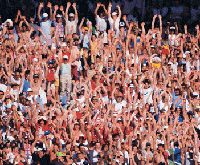 Mass gatherings are permitted and inspected by Tooele County Health Department in accordance with Rule R392-400. Temporary Mass Gatherings Sanitation. Click here for Applications and Fees. For more information call (435)277-2440 or email eh@tooelehealth.org.
"Temporary Mass Gathering" or "Gathering" means an actual or reasonably anticipated assembly of 500 or more people, which continues or can reasonably be expected to continue for two or more hours per day, at a site for a purpose different from the designed use and usual type of occupancy. A temporary mass gathering does not include an assembly of people at a location with permanent facilities designed for that specific assembly, unless the designed occupancy levels are exceeded.
Please note that a mass gathering permit does not include the permit for food vendors. Food vendors are required to permit separately, click here for more information Temporary Event Food Booth Permits.