Utah Indoor Clean Air Act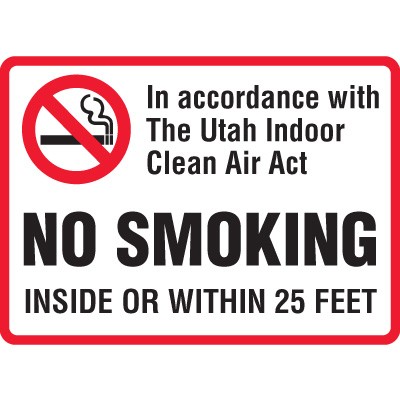 The Utah Indoor Clean Air Act was created by the Utah Legislature to protect Utahns and visitors to the state from the toxic effects of secondhand smoke. Secondhand smoke exposure is one of the leading causes of preventable death and disability in the U.S. and Utah today.
In general, "Smoking is prohibited in all enclosed indoor places of public access and publicly owned buildings and offices,…" UC 26-38-3(1). The Act prohibits the use of electronic cigarettes and hookah in the same places as traditional tobacco is.
Besides the statute, an administrative rule, Rule R392-510, has been promulgated for the Act. The Rule contains more operationally-oriented requirements in order to comply with the UICAA.
Leaders, owners, managers, and supervisors of businesses, government agencies, and other organizations are required to comply with provisions of both the statute and the rule.

Utah Indoor Clean Air Act Statute
Utah Indoor Clean Air Act Rule
Recent Amendments to the Utah Indoor Clean Air Act
Specific changes made to the UICAA during the 2006 and 2007 legislative sessions which went into effect January 2009. Also includes changes made during the 2012 legislative session that became effective May 8, 2012. more…
Utah's Indoor Clean Air Act: A Guide for Complying with the Law
Basic information sheet that discusses the basic provisions of the UICAA. Link to resource.
Procedure for reporting a Violation of the Utah Indoor Clean Air Act
How to report a violation– call (435) 277-2440 or email eh@tooelehealth.org
Penalties for Violating the Utah Indoor Clean Air Act
Required Signage
The samples listed in the link below are examples of how employers and building managers can meet sign requirements for the Utah Indoor Clean Air Act. Local sign or print shops should be able to customize signs that meet specific corporate requirements. To assure requirements are met, be sure to take a copy of the requirements listed in the Signs and Announcements page of the Business Guide.
View sample signs.
Limited Signage Available
The Tobacco Prevention and Control Program has limited quantities of building signs and window clings available free of charge.
To order signs go to:
PDF version (fax): http://www.tobaccofreeutah.org/smokefreesignorderform.pdf (PDF 48KB)
Word version (email) : http://www.tobaccofreeutah.org/smokefreeorderform.doc
Information provided by Utah Department of Health – http://www.tobaccofreeutah.org/uicaa.html